Première Loge. Bergamo: la fille du régiment
---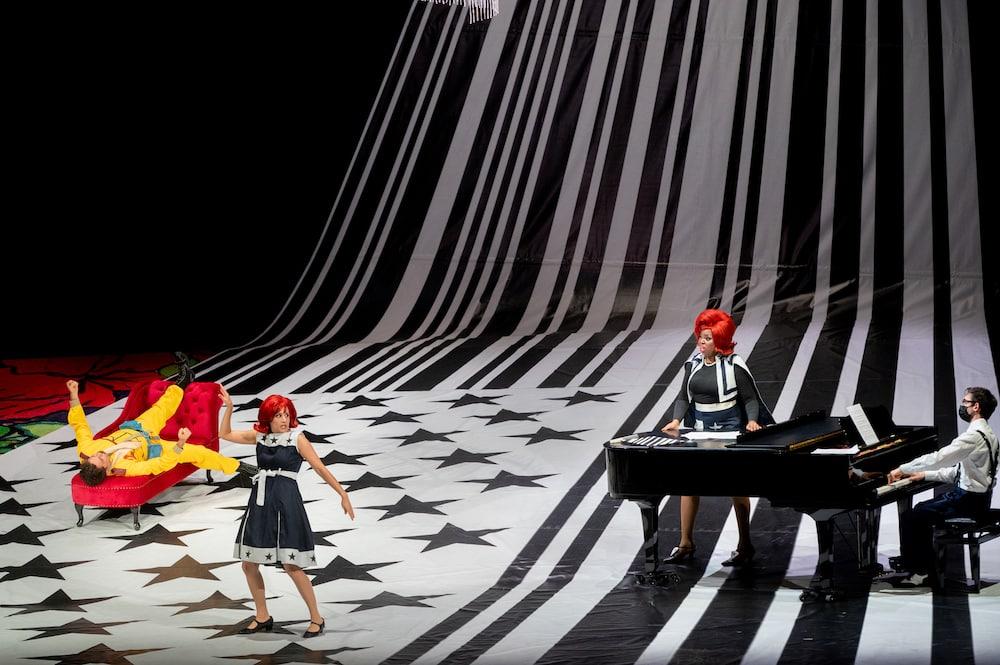 ..... the naive patriotism and exaltation of military glory of the libretto are hopelessly dated and politically incorrect, and must be adapted to our times. This is what the Cuban Luis Ernesto Doñas does with happiness, who presents this play in Bergamo, co-produced with the Teatro Lírico Nacional de la Habana.
The story is transposed to the Caribbean island at the time of the Castro revolution, but without overplaying the political aspect. Here dominate the colors of the pictorial universe of Raúl Martínez, whose pop murals form the backdrop designed by Angelo Sala. "Against the grayness of the world of the past, the real revolution is artistic. The only explosions we like are those of colors, "says the director, who, instead of guns, makes his militiamen wear yellow painter's overalls with brushes. The vivid colors of Marie's world contrast with the black and white of the Berkenfiled mansion, whose emblem is a star-spangled flag reproducing a barcode: the Berkenfiled world is dominated by the desire for money. The dollar symbol adorns the costume of the Duchess of Krakenthorp, whose handbag still carries its price! Costume designer Maykel Martínez took inspiration from Cecil Beaton from My Fair Lady to create the very elegant black and white dresses of the aristocrats.
French (original)
...le patriotisme naïf et l'exaltation de la gloire militaire du livret sont désespérément datés et politiquement incorrects, et doivent être adaptés à notre époque. C'est ce que fait avec bonheur le Cubain Luis Ernesto Doñas, qui présente à Bergame cette pièce coproduite avec le Teatro Lírico Nacional de la Habana.
L'histoire est transposée sur l'île des Caraïbes à l'époque de la révolution castriste, mais sans surjouer l'aspect politique. Ici dominent les couleurs de l'univers pictural de Raúl Martínez, dont les peintures murales pop forment le décor conçu par Angelo Sala. « Contre la grisaille du monde du passé, la véritable révolution est artistique. Les seules explosions que nous aimons sont celles des couleurs », déclare le réalisateur, qui, au lieu de fusils, fait porter à ses miliciens des combinaisons de peintre jaunes avec des pinceaux. Les couleurs vives du monde de Marie contrastent avec le noir et blanc du manoir des Berkenfiled, dont l'emblème est un drapeau étoilé reproduisant un code-barres : le monde des Berkenfiled est dominé par le désir d'argent. Le symbole du dollar orne d'ailleurs le costume de la duchesse de Krakenthorp, dont le sac à main porte toujours son prix ! La costumière Maykel Martínez s'est inspirée de Cecil Beaton de My Fair Lady pour créer les robes très élégantes noires et blanches des aristocrates.
Renato Verga, Première Loge
Photo: Gianfranco Rota
Photos © Amati Bacciardi